PLAYdifferently project by Richie Hawtin
"The ethos of Play Differently is to create products that will magnify the individuality and expand the creativity of today's generation of electronic music artists, producers and DJs." R.H.
The partnership that makes up the PLAYdifferently team is Andy Rigby-Jones, who worked at Allen & Heath in the Xone division for 25 years, and Richie Hawtin. The collaboration was announced at the press conference of NAMM (National Association of Music Merchants), which Hawtin described the two-year process of creating the mixer, which appears to be part of a wider brand called Play Differently.
"PLAYdifferently creates instruments which DJs and electronic musicians can PLAY; magnifying the creative impulse that drives our most inspired performances. This is not about one performance style – or my style – this is for all artists who strive to unlock and expand their own innate talent." Richie Hawtin said.
At the moment, there is a mystery about the design of the mixer and when it will be available on the market. You can find only some close up pics with some details. After 2 years of development and testing, the prototype is ready for the first taste.
A group of world-leading artists and DJs have confirmed to be a part of the first international tour for PLAYdifferently - a series of events to showcase the final prototypes of the brand's new mixer.
Full line-up & event dates are as follows:
Richie Hawtin
Ean Golden
Sat Mar 14 - Sound, Los Angeles
Richie Hawtin
Matrixxman
Tue Mar 15 - Resident Advisor at Kingdom, SXSW, AustinPlus Resident Advisor talk: Technology - Past, Present & Future
Richie Hawtin
Francois K
Mike Servito
Wed Mar 16 - Panther Room @ Output, New York
Richie Hawtin
Very Special Guests
Thu Mar 17 - Basement, Edition, Miami
Richie Hawtin
DJ Tennis
Fri Mar 18 - Spybar, Chicago
Richie Hawtin - in-store performance
Wed Mar 23 - Walrus, Paris
Richie Hawtin
Chris Liebing
Fabio Florido
Carlo Ruetz
Thu Mar 24 - Labyrinth, Hasselt
Richie Hawtin
DJ Tennis
Fabio Florido
Fri Mar 25 - Tenax, Florence
Richie Hawtin
Nastia
Hito
Roi Perez
Sat Mar 26 - Fabric, London
Richie Hawtin
Paco Osuna
Diego Krause b2b Cinthie
Fabio Florido
Hito
Whyt Noyz
Carlo Ruetz
Matt Karmil
Sun Mar 27 - Watergate, Berlin
Richie Hawtin
Dubfire
Joseph Capriati
Hito
Thu 07 April - Robert Johnson, Frankfurt
Richie Hawtin
Joseph Capriati
tINI
Hito
Sat-Mon 28-30 May - Movement, Detroit
Richie Hawtin
Maceo Plex
The Martinez Brothers
Chris Liebing
Fabio Florido
Hito
Tue 26 June - Awakenings, Amsterdam
More soon at the official website: http://www.playdifferently.org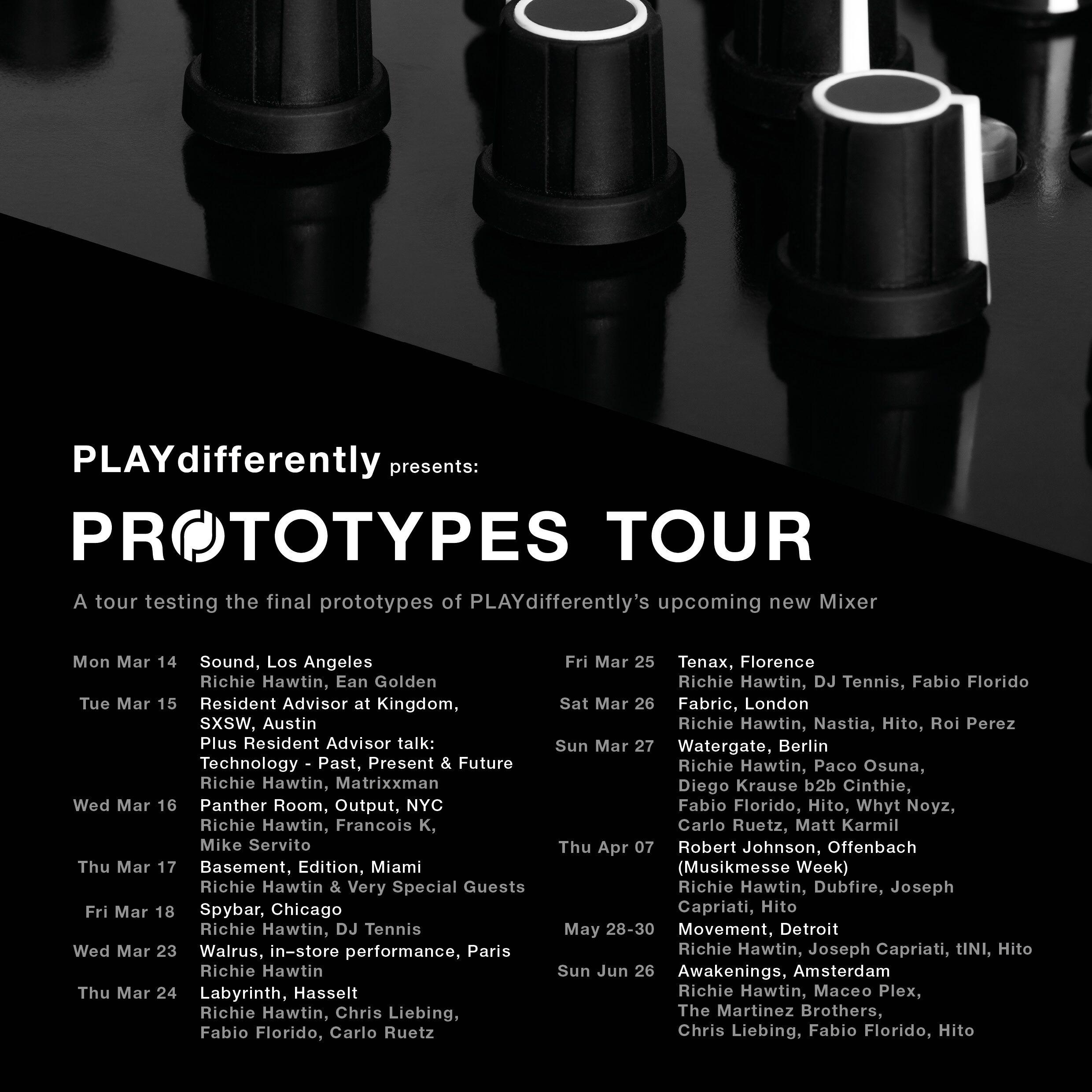 Το Playdifferently είναι προϊον της συνεργασίας του βρετανού Andy Rigby-Jone ο οποίος για 25 χρόνια βρισκόταν πίσω από τον μείκτη Xone της Allen & Heath και του Richie Hawtin. Η συνεργασία τους ανακοινώθηκε στο NAMM, όπου ο Richie Hawting έκανε αναφορά για τα 2 χρόνια ανάπτυξης και δοκιμών του νέου μείκτη ο οποίος θα αποτελεί το πρώτο κομμάτι του brand Play Differently.
"Η Playdifferently δημιουργεί προϊόντα τα οποία Djs & ηλεκτρονικοί μουσικοί μπορούν να παίξουν και δίνει όθηση στον δημιουργικό παλμό τους για μοναδικές εμφανίσεις." λέει ο Richie Hawtin στην παρουσίαση του NAMM.
Για την ώρα υπάρχει ένα μυστήριο για το παρουσιαστικό του μείκτη που πρόκειται να διατεθεί προσεχώς στην αγορά. Μετά από 2 χρόνια ανάπτυξης και δοκιμών, το πρωτότυπο του μείκτη είναι έτοιμο προς χρήση.
Με ένα γκρούπ αναγνωρισμένων καλλιτεχνών της ηλεκτρονικής σκηνής όπως  Chris Liebing, Fabio Florido, Carlo Ruetzο και πολλών άλλων,ο Richie Hawtin έχει ξεκινήσει να παρουσιάζει το project Play Differently.
Σύντομα περισσότερα στο: http://www.playdifferently.org