Music Showcase of Greece 2018 - Thessaloniki
MSG "THE CONFERENCE"
Music Showcase Greece is a music marketplace that introduces the contemporary Greek sound to the international audience. Producers of the global music industry will visit Thessaloniki to meet and listen to Greek musicians. During these four days, the city will become a meeting point for Greek artists of all music genres and international professionals from the greatest music events in the world.
Music Showcase Greece will offer international music producers the opportunity to discover the most creative Greek music artists of pop, rock, indie, jazz, world and electronica, as well as give Greek musicians the chance to seek collaborations and claim a position in the program of the most influential international music festivals.
#MSG1 organizes a conference in order to put music on the spotlight. Warehouse D, at the port of Thessaloniki becomes the place where music ideas are born and international guests share their knowledge about the music industry and discuss current issues.
Registrations start at 16:45
Room: TONIA MARKETAKI
17:00
OPENING ACT: RONI IRON DJ
17:30
WELCOME by Eleni Skarpou (Radio Producer)
17:45
ARTIST MANAGEMENT
Speakers: Susan Rosenberg (Magneta Label Group) USA, Dimitris Lilis (Music Manager / Just Gazing Records) GR, Didier Zerath (The DZ Factory Label) FR.
18:15
HOW BIG FESTIVALS CHOOSE ARTISTS
Speakers: Fernando de Sousa (Director Casa La Musica) PRT, Warren Chien (MTA Festival) CHN.
18:45  
HOW PUBLIC HELPS EXTROVERSION Speaker: Stavros Panagiotidis (Head of Prime Minister's Office- Social Policies Dpt.) GR.
19:00  
ARTIST RELATIONS
Speakers: Max Paproth (Universal Music Group) GER, Galina Metelskaya (Wild Mint Festival) RUS.
19:30 - 20:00 BREAK at Foyer
Room: TONIA MARKETAKI
20:00
RIGHTS CLEARING
Speakers: Svenja Mahlstede (Creative Services & Licensing Sony / ATV Music) GER, Nikko Patrelakis (Musician / CO Founder Doc TV) GR.
Room: FRIDA LIAPPA
20:00 - 21:30 "GO INTERNATIONAL!"
"A WOMEX ACADEMY" Workshop & Mentoring @ Music Showcase of Greece
(Duration: 90min/ for limited participants)
20:30
NEW SCENES AND MICROTRENDS
Speaker: Pawel Trzcinski (Distorted Animals Promotion Manager) POL.
21:00  
STRATEGY FOR UNIVERSAL EXPORT | IMPORTANCE OF EXPORT OFFICE
Speaker: Iro Siamanta (Gre.ex Music Office) GR.
PRESENTATION "CHAIN BOOKING"
Speaker: Panagiotis Panagiotopoulos GR.
21:30 
HOW MUSIC SCENE CHANGE THE WHOLE CITY THROUGH A FESTIVAL
Speaker: Anders Damberg (Live at Heart Festival) SWE.
THESSALONIKI AS A FESTIVAL TOURISTIC SPOT
Speaker: Spyros Pengas (Deputy Mayor of Tourism / Thessaloniki) GR.
22:00 Farewell
More info.
https://musicshowcase.gr/en/conference/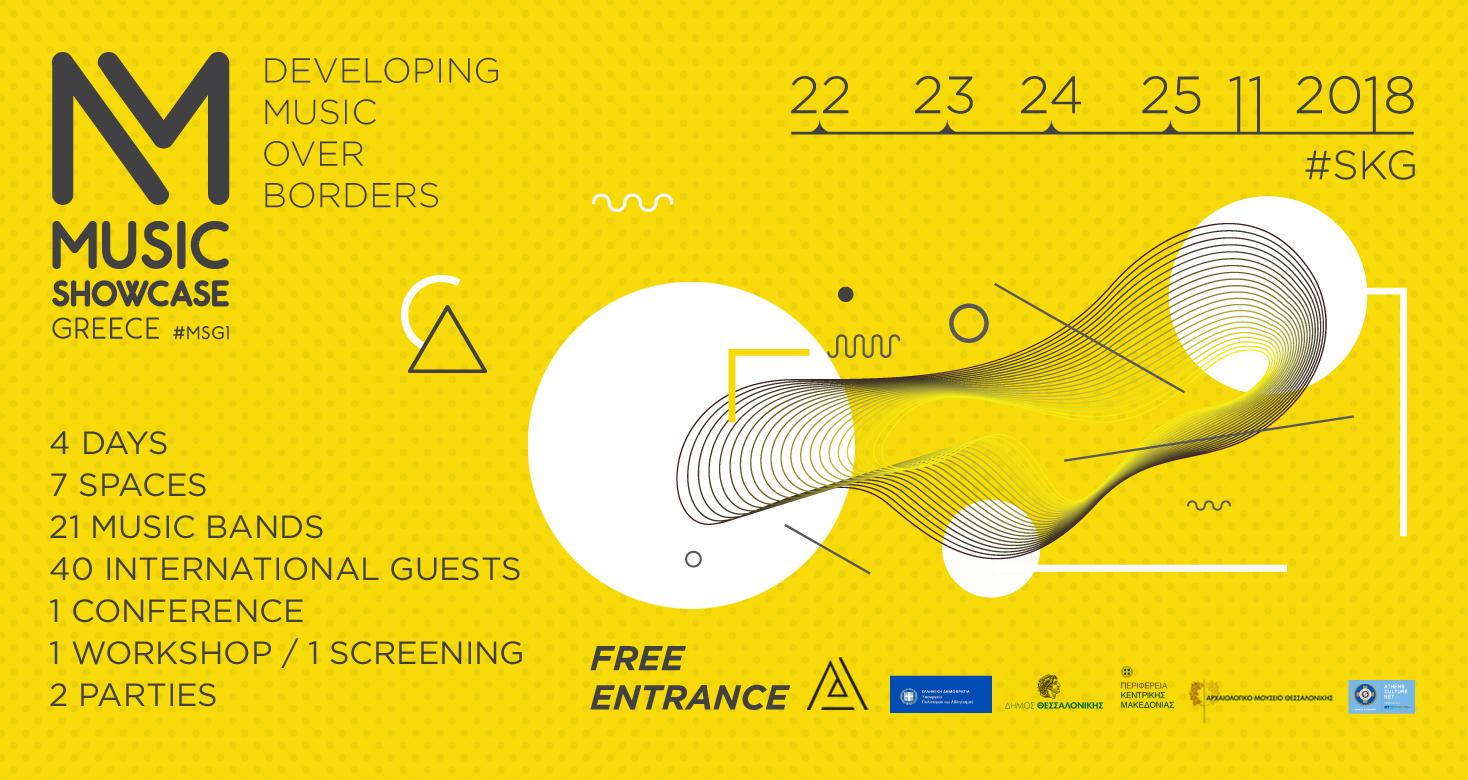 Συμπεριλαμβάνοντας ομιλίες διεθνώς αναγνωρισμένων καλεσμένων, το #MSG1 διοργανώνει ένα συνέδριο που μοιράζει γνώσεις σχετικά με τον χώρο της μουσικής. Η Αποθήκη Δ στο λιμάνι της Θεσσαλονίκης, γίνεται ο χώρος όπου μουσικές ιδέες παρουσιάζονται μεταξύ των συμμετεχόντων.