Electronic Seikilos - Introduction to Electronic Music
Workshop for Electronic Seikilos social action funding
On Saturday 8th December, the first action of Electronic Seikilos was held to financially support the project. "Kalos Agogos" hosted the first workshop in the city of Heraklion, Crete with the participation of children and adults. Upon completion of the workshop, the amount which was required to buy the first electronic music equipment of the first school / institution was collected. The delivery of the equipment will take place late of 2019.
The workshop program:
1. Introduction, a few words about Electronic Seikilos
2. Electronic music in Greece (its evolution in Greece over the years)
3. Acquaintance with electronic sound
- Theoretical part (hardware and software equipment, analog and digital musical instruments, ways of learning)
- Workshop (contact with synthesizer)
4. Media players and promoters and how vinyl returns as a basic medium of music reproduction
5. Professional prospects of the field
6. Questions, answers, open dialogue
7. CD Digipack Distribution "V.A. - Electronic Seikilos", epilogue
We thank Eleni Garifalaki and Petros Koliavasilis for their support and hospitality.
Workshop Direction: Michael Meimaroglou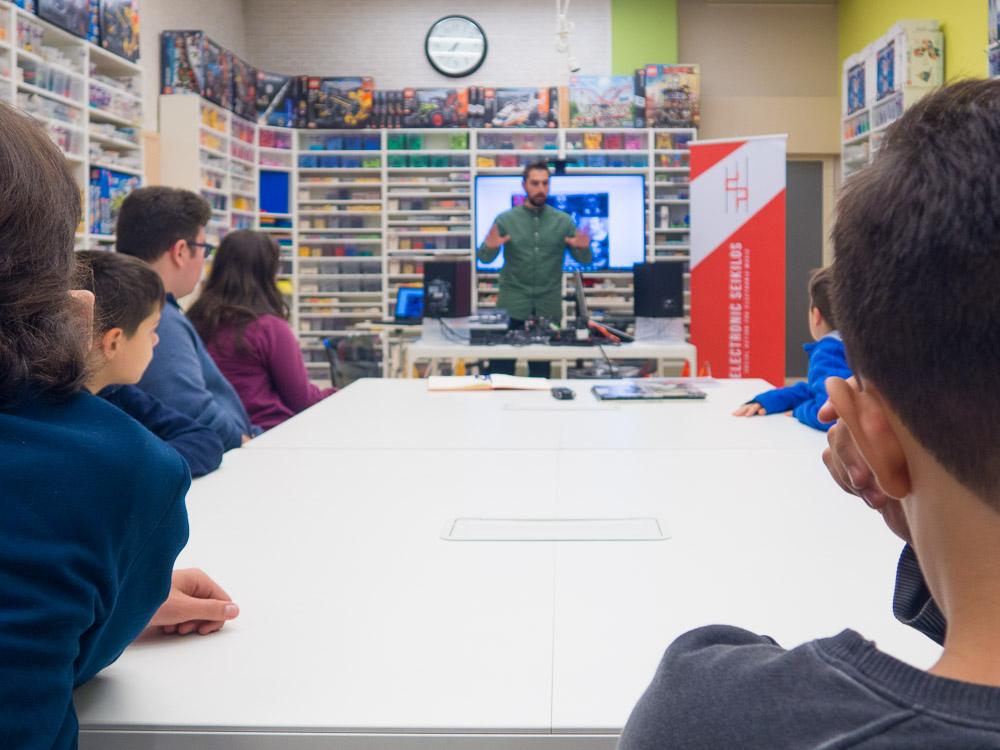 Το Σάββατο 8 Δεκεμβρίου πραγματοποιήθηκε η πρώτη δράση του Electronic Seikilos με σκοπό την οικονομική ενίσχυση του έργου. Ο Καλός Αγωγός φιλοξένησε το πρώτο workshop στην πόλη του Ηρακλείου με την συμμετοχή παιδιών και ενηλίκων. Με την ολοκλήρωση του workshop, έγινε συγκέντρωση του απαιτούμενου ποσού για την αγορά βασικού εξοπλισμού του πρώτου σχολείου/ιδρύματος. Η παράδοση του εξοπλισμού θα γίνει τους πρώτους μήνες του 2019 και θα δημοσιευθεί σχετικό δελτίο τύπου.
Το πρόγραμμα του workshop:
1. Εισαγωγή, λίγα λόγια για την δράση Electronic Seikilos
2. Η ηλεκτρονική μουσική στην Ελλάδα (η εξέλιξή της στον ελλαδικό χώρο μέσα από τα χρόνια)
3. Γνωριμία με τον ηλεκτρονικό ήχο
- Θεωρητικό κομμάτι (εξοπλισμός Hardware και Software, αναλογικά και ψηφιακά μουσικά όργανα, τρόποι εκμάθησης)
- Πρακτικό κομμάτι (επαφή με synthesizer)
4. Μέσα αναπαραγωγής και προώθησης της μουσικής και πώς το βινύλιο επιστρέφει σαν βασικό μέσο αναπαραγωγής της μουσικής
5. Επαγγελματικές προοπτικές του χώρου
6. Ερωτήσεις, απαντήσεις, ελεύθερος διάλογος
7. Διανομή CD Digipack "V.A. - Electronic Seikilos", επίλογος
Ευχαριστούμε από καρδιάς την Ελένη Γαρυφαλλάκη και τον Πέτρο Κολιαβασίλη για την υποστήριξη και την φιλοξενία στον χώρο του Καλού Αγωγού.
Παρουσίαση/Συντονισμός δράσης: Μιχάλης Μεϊμάρογλου